What makes <span style="font-family: 'arial black', 'avant garde';">inlingua</span> different
The promise of a beautiful encounter.

A hearty local breakfast.

Ecology at the heart of all commitments.
At the gates of Lauragais, 20 kilometers south of Toulouse, our guesthouse and sharing, housed in an old brick and pebble barn, welcomes you all year round, whether for a stopover, a stay or a event. Privatization is possible for the day or more, for an internship, a workshop or a family celebration - birthday, baptism, communion,… -.

We offer brunch, snacks, table d'hôtes and regional dishes from local producers, to be enjoyed in the house, on the terraces in the shade of the trellis or in your suite ...

Let's talk about it… Our Port Pastel suite accommodates 1 to 5 people, in 2 duplex bedrooms. A small pontoon overlooking the large garden leads to a private wooden terrace which opens onto the suite. Its entrance is therefore independent. We used ecological materials and natural pigments to furnish it. Breakfast, made with homemade, seasonal, and essentially organic and local products, will be served in the house or on our terrace depending on the season. But it can also take the form of a breakfast basket if you prefer to enjoy it as a couple in your room.

We will be very happy to welcome you, to discuss with you and to guide you as best as possible according to your expectations and your desires. We are lucky to have a panoramic view of the Pyrenees and our environment is magnificent: our beautiful village of Clermont-le-Fort, perched on its cliff, fields, paths, groves, the wild Ariège,… Many activities are possible on site or nearby: hiking, cycling, canoeing, ... We will lend you IGN maps but also board games or toys, books ... There is a slide in the garden, and the little children's cabin is being renovated ... And Toulouse la Ville Rose is easily accessible by public transport.

Our site precisely lists many possible activities according to their proximity and your areas of interest ... Do not hesitate to consult it and, above all, to ask us ... For us, you are unique! We are delighted to be now labeled Quality Tourism and Quality Tourism Occitanie Sud de France. Hope to meet you soon !

The Gourmet Summer Guinguette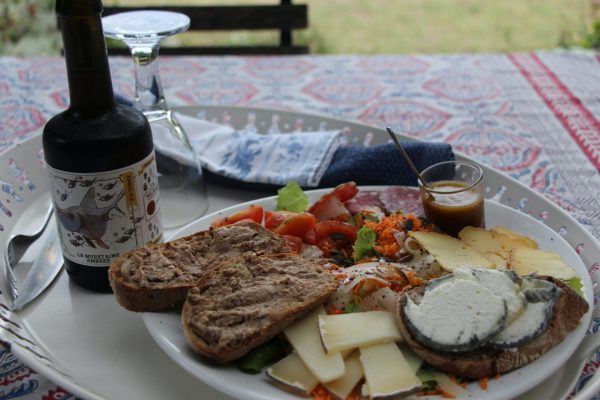 Every Sunday from June 4 to July 9, 2023, book your table on the terraces and in the Couleurs du Vent garden. From 15 p.m. homemade, local and seasonal cuisine at affordable prices, while playing one of the many board games available. By reservation only (limited places – the sooner the better)
Capacity
2 bedrooms
Maximum capacity: 5 person (s).
Pricing
1 person: 75 €
2 people: € 75
2 person: 85 €
3 people: € 95
4 people: € 115
5 people: € 135
Table d'hôtes - family dinner: €18
Table d'hôtes - gourmet dinner: €22
Table d'hôtes - festive dinner: €27
Table d'hôtes - regional plate: €17
Table d'hôtes - gourmet picnic: €10
Price
Min.
Max.
1 guest
€75
2 people
Double bed
€75
2 guest
2 double beds
€85
3 people
€95
4 people
€115
5 people
€135
Table d'hôtes - family dinner
per person / € 10 for a child under 6 years old
€18
Table d'hôtes - gourmet dinner
per person
€22
Table d'hôtes - festive dinner
per person
€27
Table d'hôtes - regional plate
per person
€17
Table d'hôtes - gourmet picnic
per person (from 2 people)
€10
Payment method
French bank and postal checks
SPECIES
Transfers
Services
Comfort
Internet access
Crib
High chair
Baby equipment
Heating
Sheets and linen included
Collective washing machine
DVD player
Booster seat