The aim of the Occitanie Sud de France Tourism Quality Label is to help companies develop and optimize the quality of the welcome and the services offered to tourists.
Establishments are prepared for labeling, undergo an external audit by a mystery shopper, and monitor progress actions, in connection with quality management.
The label is managed by the Occitanie Region, in close collaboration with the State, the AD'OCC Economic Development Agency, the Regional Tourism Committee, the Departments and their partners in the territories.
The regional label is recognized by the National Tourism Quality Plan
Nearly 6000 companies are labeled at the French level. The Occitanie region is the first region in France, with nearly 1 labeled in 200 different sectors.
Good to know: A company which commits, simultaneously obtains the national mark and the regional label.
Are you concerned? Here are the 11 sectors that can apply
Hotels and Hotel-restaurants
Campsites
Guest house
Holiday villages
Tourist residences
Restaurants and Farms-Inns
Cafes, Bars, Brasseries
Places of visit
Cellars, points of sale
Sports and leisure activities
Tourist offices
Why get involved in this quality approach?
The Quality Tourism Occitanie Sud de France label will help you:
Engage in a quality assurance process to give tourists confidence
Improve the services you offer to your customers
Optimize customer follow-up and satisfaction
Involve your staff
To support you throughout your certification, you will have at your service:
Progress tools to increase efficiency (quality audit by a mystery shopper, interactive workshops, networking actions and intermediate quality points)
Services to control your "digital footprint" (analysis and monitoring tools on online review sites)
Tools for better communication (promotion kit, photo reports)
How to access the label?
To obtain the Quality Tourism Occitanie Sud de France label, a complete diagnosis of your services will be carried out by a quality auditor (mystery shopper visit). But before that we help you to prepare thanks to the preparation workshops.
From the first contact we will guide you towards a posture of continuous improvement!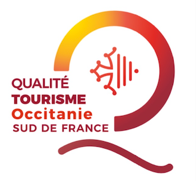 Angelika SAUERMOST | Tourism Quality Project Manager
angelika.sauermost@agence-adocc.com
Department of Tourism and Thermal Spa Montpellier Site
AD'OCC - Economic Development Agency - Pérols site
Tel .: +33 (4) 67 22 84 15 | Mob .: +33 (0) 7 75 24 87 91


Régine LATAPIE | Project Manager
Tourism and Spa Department - Toulouse site
regine.latapie@laregion.fr
Phone: +33 05 61 13 55 47 | Phone: 05 61 33 50 42
www.laregion.fr
Valérie RUELLE | South of France Tourism Quality Project Manager
AD'OCC- Regional Economic Development Agency- Pérols site
valerie.ruelle@agence-adocc.com
3840 Avenue Georges Frêche - CS 10012 - 34477 Pérols
Phone. +33 (0) 4 99 64 29 29