Like every year, you can become a partner of our Tourist Office. You will then become an important player in our network and benefit from exclusive advantages on our communication media.
A new Premium formula
To adapt the partnership program to all budgets and allow you to fully benefit from the advantages that we can offer you, you now have the choice between 2 partnership formulas
Un Classic partnership, which replaces the partnership of previous years
Un Premium partnership, which also offers new advantages
The new website opens up new perspectives!
The creation of this new website, entirely managed by our the Tourist Office, offers a new dynamic to our communication strategy, by anticipating new digital challenges:
It optimizes our presence on all digital media, in particular smartphones.
Our SEO work allows us to attract new audiences through the sharing of offbeat and experiential content.
Custom listing options and "cross-selling" (= associations of offers) allow important possibilities to highlight our partners.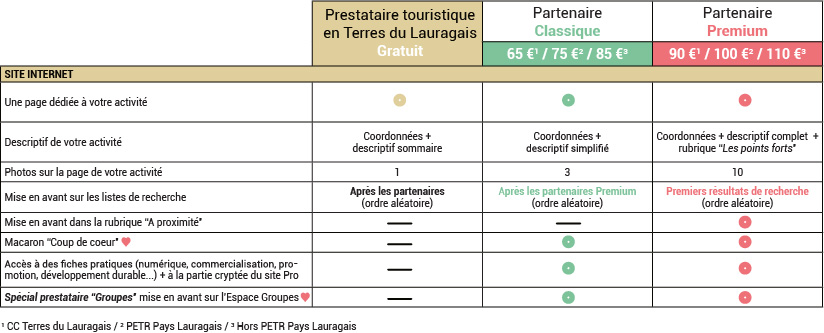 A new look for our 2021 tourist guide
To honor our new brand Lauragais Tourism, our Tourist Guide 2021 will display our new colors and our new graphic charter. We have also chosen a new format:
Larger dimensions to favor more visual pages
With a better-worked editorial charter, on the model of a magazine
With more airy and more immersive content, for better reading comfort
By becoming a partner, you will benefit from a special place in this brand new guide, and the possibility of reserving an advertising insert for a favorable price.
Return your entry form to us before January 20, 2021 to be featured in our 2021 tourist guide.

Individualized support
More digital workshops in 2021!
The formula will be replaced by a new service which has already proved its worth in 2020: individualized support.
The process is simple: you tell us about a problem or need related to your tourist activity, and a member of our team will help you for a half day. Our team will know how to share its experience on a multitude of subjects
Creation of a new website or a new brochure
Computer skills and initiation to office automation or digital communication tools
Help with web referencing and monitoring your e-reputation
Photo report of your tourist offer
Administrative assistance in putting together a labeling or classification file
New practical sheets, as well as tutorials will be available for download in the Partners area of ​​our website.