In Nailloux Outlet Village, the regional specialty store "Le Comptoir d'Isatis" is an essential address for all lovers of crafts and gastronomy, as well as for lovers of Lauragais and Occitanie.
QUALITY PRODUCTS
From its creation in 2011 by the Tourist Office, this 180m2 store is dedicated to gourmet and artisanal products from our region.
Located on the Place du Village of Marques in Nailloux, a team of enthusiasts selects the best of the region for you. As proof, more than 1000 rigorously chosen references await you there, following a very strict charter whose golden rules are: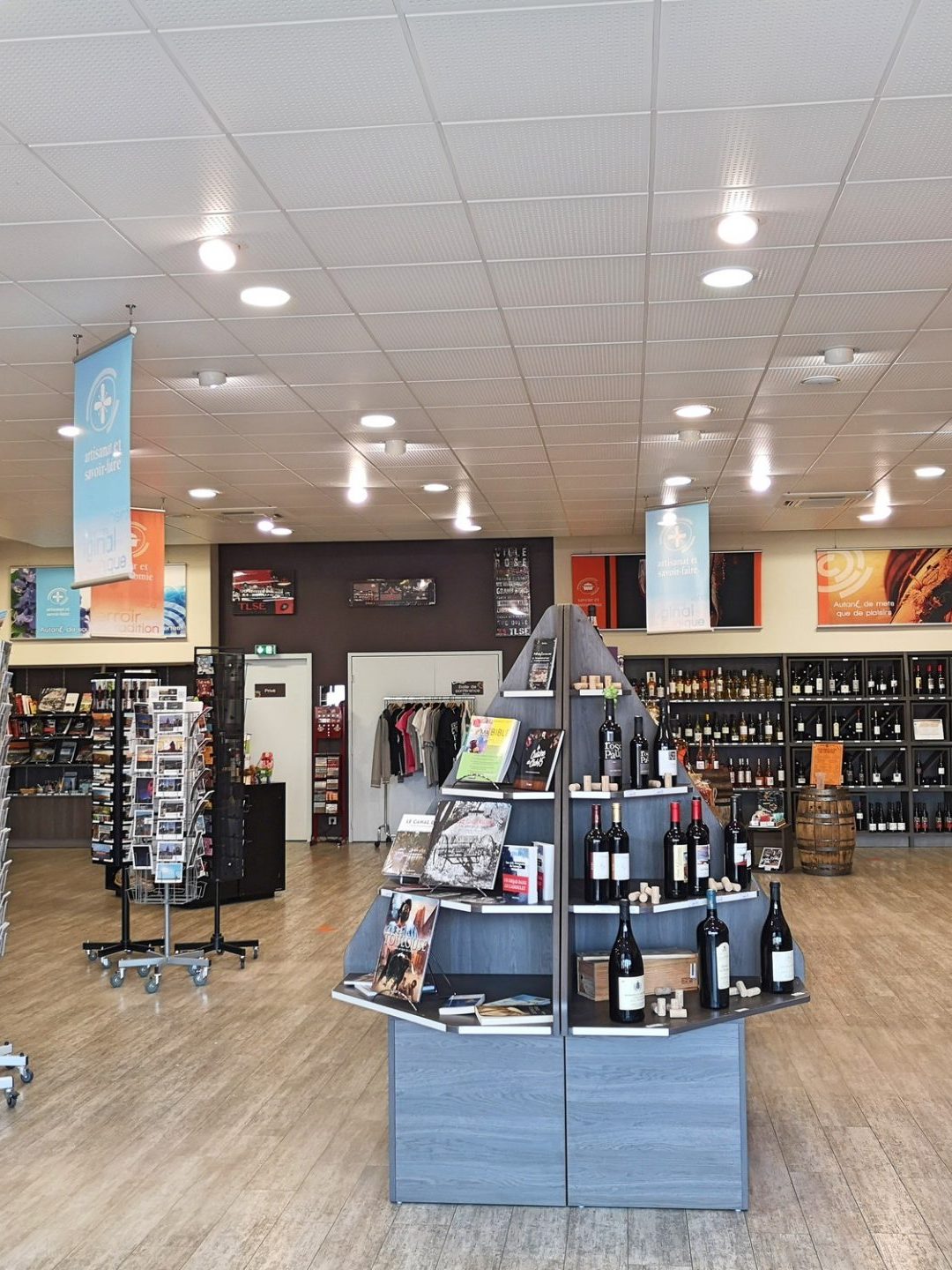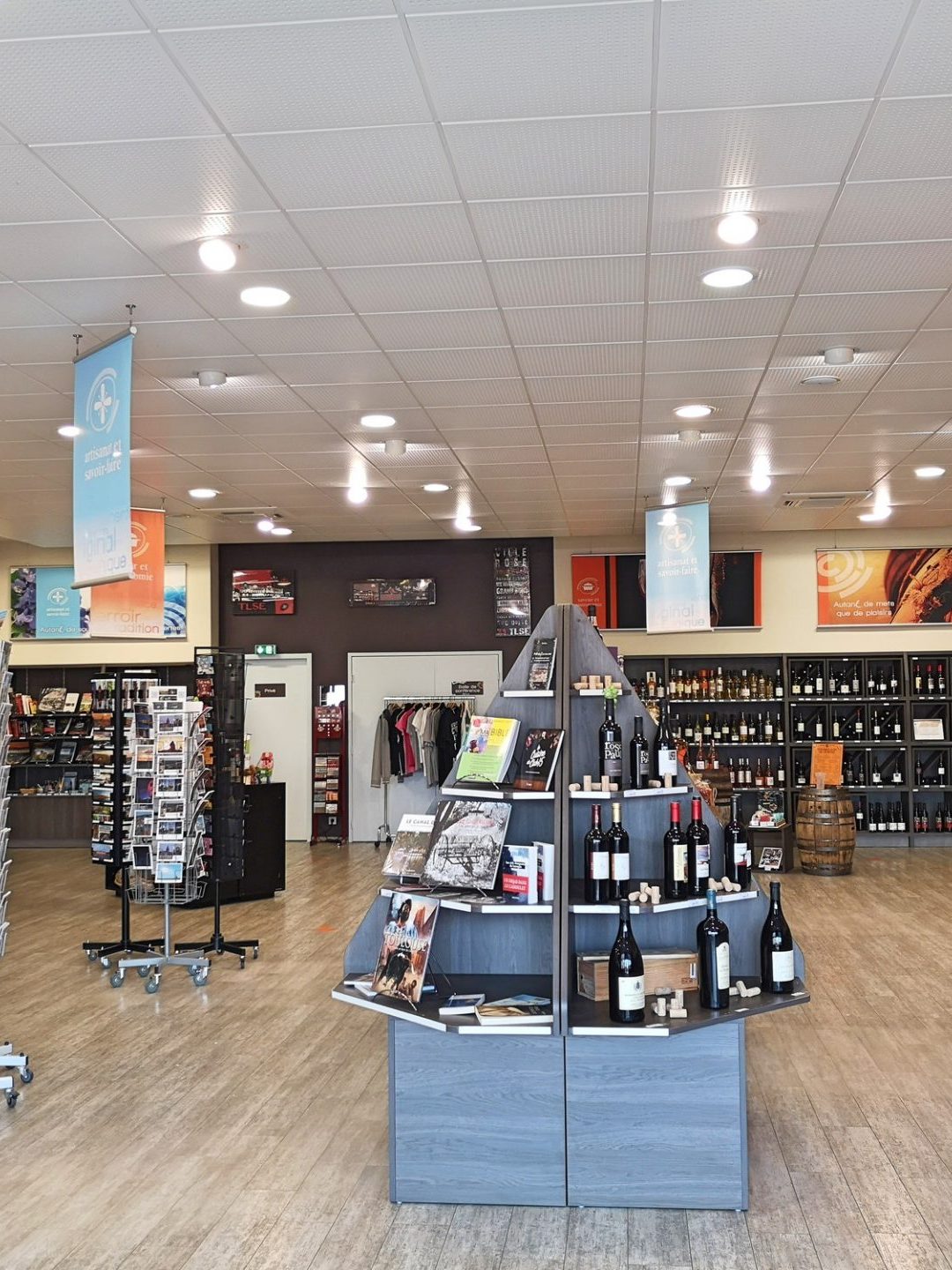 Belonging to the Occitanie region : for products representative of its gastronomy and its know-how.
The use of local raw materials : to favor the local economy and reinforce our commitments to respect for sustainable development.
Sales outside large distribution : to guarantee the authenticity of our products and avoid industrial production processes.
The seriousness of the producers : because the relationship of trust that we maintain with our customers and our producers is essential.
Why the Comptoir d'Isatis?
The shop is located in the heart of the land of plenty where the transformation of the Pastel plant, named Isatis Tinctoria, used to dye rich fabrics in blue. Thanks to this pigment, the region experienced a prosperous period during the Renaissance. This plant is still cultivated around Toulouse today, but its use is now turned towards cosmetic products offering a triple action: moisturizing, anti-aging and restorative. Pastel, also called Lauragais Grass is a true symbol of success that we can find in our shop through secular specialties.
Our specialties from Occitanie
Gourmets, craft lovers or simple travelers will surely find their happiness at the Comptoir d'Isatis!
Personalized sweet pleasures with original cookies, honey, jams and all kinds of sweets.
Personalized salty pleasures and traditional such as duck foie gras, various and varied terrines, delicious cassoulets and a host of pulses grown close to home.
A wine cellar in the shape of the richness of our vineyards : Minervois, Fronton, Gaillac, Corbières, Madiran are available in reds, rosés and whites. Lovers of fine festive bubbles, we advise you to taste our blanquettes and crémants from Limoux. Queen of the local stage, the Toulouse violet liqueur partage his fame alongside digestive and delicious locally brewed beers.
Personalized cosmetics made of Pastel, to the sweetness of Violet perfumes, via arts and crafts from master potters or young jewelry designers, all the know-how of our craftsmen is available to infinity!
It would be a shame to leave without a souvenir of the region or one of the many works that adorn our bookstore area.
TAILOR-MADE BOXES
You want to please your loved ones and offer them a custom basket ? No problem, our team will advise you and create a gift box adapted to your budget.
It is also possible to make your own gift box for many occasions and in large quantities: corporate gifts, end of year baskets for companies and communities… Possibility of inserting a personalized message (offered from 50 baskets).
Pratical information
Access and contact:
Tourist Office - Nailloux Outlet Village
31560 Nailloux
Phone: +33 (0) 5 62 57 61 67
boutique@lauragaistourisme.fr
Openings
Open Monday to Saturday from 10 a.m. to 19 p.m.
exceptional opening