Perched on a hill, dominating Nailloux Outlet Village, this red windmill is sure to catch your attention. As a family, don't miss his visit, which takes place every Friday during school holidays! A friendly moment that will remain in the memories of young and old alike...
A must-see site in Lauragais
Did you know that Lauragais once had more than 500 windmills ? Most of them no longer exist today. The Moulin rouge de Nailloux is a recent construction, dating from 2005. It should be noted that this is a copy of an identical mill which stood in the main street of Nailloux and which collapsed in 1927.
Built in concrete and covered with red aluminum cladding, it inevitably catches the eye of the visitor. Its color recalls that of red brick, the preferred construction material in the Toulouse region. But do you know why this mill has six wings?
Did you know?
Many mills in France have now disappeared. If you stroll in the Lauragais countryside, you will observe most of the time that only the ruins of the cask of the mills remain.
In fact, at the start of the XNUMXth century, when the miller died, the law imposed a strict rule: if the family wanted to keep the mill intact, they had to pay a tax called the patent.
This is why, due to lack of resources, the successors often preferred to dismantle the wings. All this would contribute to the end of windmills, replaced throughout the twentieth century by industrial flour mills.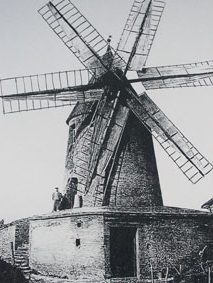 An unusual story
The story goes that the miller from Nailloux did not get along with his neighbor and that the latter, to annoy him, had added a floor to his house which cut all the wind to the miller. The latter, in order to compensate for the lack of wind, decided to add an additional pair of wings to his mill. The current mill is therefore a reconstruction. It is emblematic of Lauragais and represents a heritage in disappearance ...
Pratical information
Picnic area. on the spot
Parking
Magnificent point of view on the Pyrenees
Holiday visits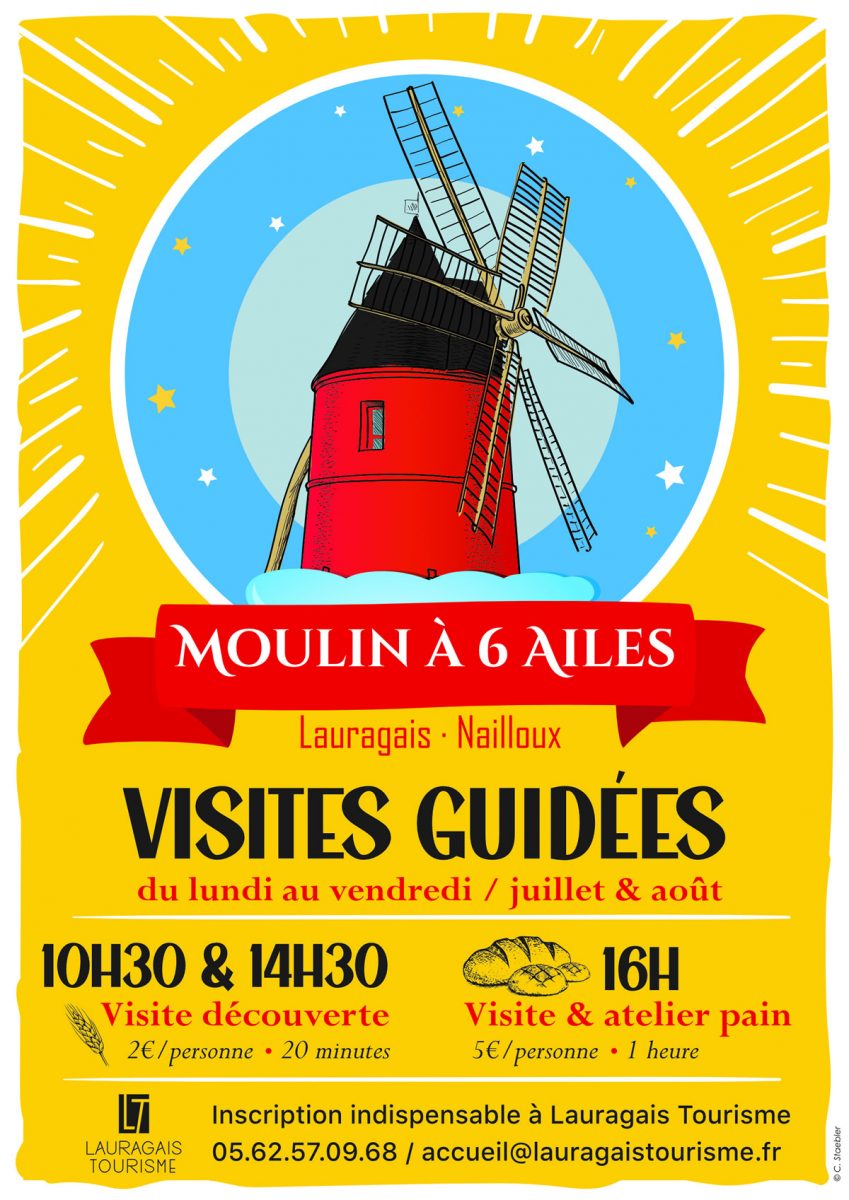 From October 23 to November 3,
from Monday to Friday
(except November 1st)
at 16:00 p.m. : visit with 1 hour bread workshop
5€ per person from 3 years old.
Mandatory registrations at 05 62 57 09 68 / accueil@lauragaistourisme.fr